1. The Mindy Project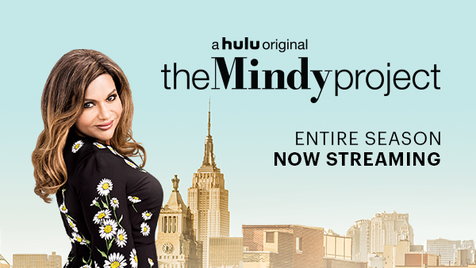 I just stared this series and I instantly got hooked to it. I love Mindy Kaling's character and her as an actress overall. She's super funny and relatable. The show is about a successful doctor named Mindy Lahiri who's aspiring to become a better person. She wants to leave her romantic-comedy-stay-at-home-movie-watching self behind and get her life more on track. She has a lot of fall backs and finds herself going back to old habits but she keeps pushing herself to move forward. If you love romantic comedies then I would look into watching this show. I'm already on Season two and I'm sure at this rate I'll probably be caught up with the most recent episode by the summer time.
2. Bruce Springsteen Shirt
Ever since my boyfriend gave me this shirt I have been grabbing for it every time I go out. It's just an easy shirt to style and I like how it can be dressed up or dressed down. I needed a staple graphic shirt in my closet and I think this is the right match for me. Also if you guys are wondering where the shirt is from my boyfriend said he got it at H&M and also the mustard cardigan in the photo is from Urban Outfitters.
3. It Cosmetics Your Skin But Better Color Correcting Full Coverage Cream + Anti-Aging Hydrating Serum CC+ Cream $38
As you may know, I have been wanting to try this CC cream for the absolute longest and I finally decided to give it a try! If you want to read my full review of this product then C L I C K H E R E. Overall this has been my go to product all month long and I've really grown to love it. It's lightweight and matches my skin tone perfectly. I would definitely look into this product if you're someone that doesn't like heavy foundations but still want some coverage.
4. Anastasia Beverly Hills Duo Brow Powder $23
I have tried almost every type of brow product on the market. I've tried the pommades multiple pencils, different powders, etc., but nothing has made my eyebrows as on fleek as the ABH Duo Brow Powder. It has a natural finish which is what I like best and even though it's a powder it usually lasts me all day. I rarely ever have to do touch ups on my brows throughout the day when I use this.
5. Soap and Glory Hand Food $4
My hands have been suffering throughout this cold weather. The word "dry" is an understatement when it comes to how dry my hands have been, but luckily I purchased this hand cream by Soap and Glory! It has literally moisturized my hands back to life and for only $4 it was more than worth it.
6. Cage The Elephant - "Telescope"
I don't know what it is about this sound but I just clicked with it the moment I heard it. Even though it sounds like a song that would play in a movie during the scene right after a break up and the character is going through a stage of depression, nostalgia, and question where their life went wrong but somehow finds hope again. I don't know, it's just a good song that I could not stop listening to all month and is a really good song to play in the background while you reflect back on your life, but that's probably just me lol.
7. Sunday Riley Power Couple Complete Transformation Kit $78
I talked about this kit earlier this week and to no surprise it has made it's way into my favorites. It has changed my skin like no other products out there and it really does stand by it's name and completely transforms your skin. My skin has never felt and or looked better in so long I can't even remember the last time I felt comfortable with just a bare face. And because of this kit applying makeup is a lot smoother because the texture of my skin has changed dramatically, and it's just a dream and basically a blessing having this product in my life. 10/10 completely loving this product and will most definitely have to purchase the full size whenever I run out, which I may add might be quite a long time from now because a little bit of this product goes a long way so that's also a plus. Also I only try to use this every other day because I feel that because the formulas are so potent that I don't think it's necessary to use this consecutively. Overall I strongly recommend this to everyone out there because it will change your skin and your life.
8. Belief The True Aqua Bomb $38
When I'm not using the Sunday Riley products I grab for this moisturizing gel. Especially with the cold weather my skin has been extra dry, but with this I have no more flaking skin or dry patches on my face. After my second time applying this to my skin my face has been thanking me ever since. My skin is firmer, plump, and of course feels and looks more hydrated.
That's it's for this month's favorites. I am definitely going to try my best and keep these monthly favorites going so until next time <3 What were some of your favorites this month? I would love to read about them in the comments below. Also if you have any further questions about any of items I mentioned, feel free to ask! :)