Start the week off right by watching AMC's "The Walking Dead." Sundays have officially become greater because of this show and Season 5 has been nothing but awesome so far. I remember watching the season premiere and I seriously could not handle it because it was just so intense yet still so satisfying.
If you're not into the whole "zombie apocalypse" type of shows or ideas, this show will probably change your mind on that. The way you just start growing emotionally attached to the characters, character development and the intensity of the show and never knowing what's going to happen next always keeps you coming back for more.
Onto Mondays! Now if you've never really been a Monday person, you will be now because on Mondays are the new episodes of "Gotham" and I am hooked on this show. The show doesn't necessarily show Batman because it's set in the time prior to when Batman (Bruce Wayne) becomes Batman. The show is more about James Gordon and his experience as a cop in the city of Gotham. The first episode is about the murder of Bruce Wayne's parents which leads to Gordon finding out about how corrupt the criminal justice system is in the city and from there he get tangled into a giant web of mobsters and crooked cops and you just got to watch the show to understand and to embrace the intensity and all the plot twists in the show.
Penguin has to be my favorite character in the show, although I don't necessarily respect him for being such a snitch and a coward. His actor (Robin Lord Taylor) portrays the part so well and I just love him in the show.
If you haven't yet heard of the show, I say get a Hulu account right now just so you can catch up on the episodes and just get sucked into how good the show is. I highly recommend it to anyone! Even if you're not a huge DC Comics fan, or not even into the whole comics or superhero thing, you don't have to necessarily understand Batman's story to appreciate and enjoy the show.
After recovering from the dramatic Mondays of "Gotham" you can dash on over and watch The CW's "The Flash" on Tuesdays. (Yes, that was me attempting and failing at making a "running" pun) And let me just get this out there, Grant Gustin, the actor who plays Berry Allen aka The Flash is SOOOOOOOOO insanely cute. Like the show itself is extremely good but he is one reason why I tune into the show every Tuesday night.
And I'll admit, I never paid much attention to The Flash in comics or even when he was in Justice League, but the way this show portrays his story is phenomenal. I will also say that I know nothing about The Flash, never read his comics, don't know anything about him other than he can run faster than the speed of light and sound. So if you're also in that same category as me, I would still recommend this show because I feel, just like Gotham, you don't need to know everything about The Flash to still enjoy the show.
Also...just look at Grant.
(Even though, ironically he's wearing a Superman shirt)
He is so beautiful.
I seriously love him playing this role because he just suits it so well. But then again, I don't have any prior knowledge of The Flash other than what I'm learning from the show, so I could be wrong in the nerd-universe and others may have pictured someone else playing this role. However, I see nothing wrong with his acting so far and I am not just saying that because I am a total fan girl over him or anything.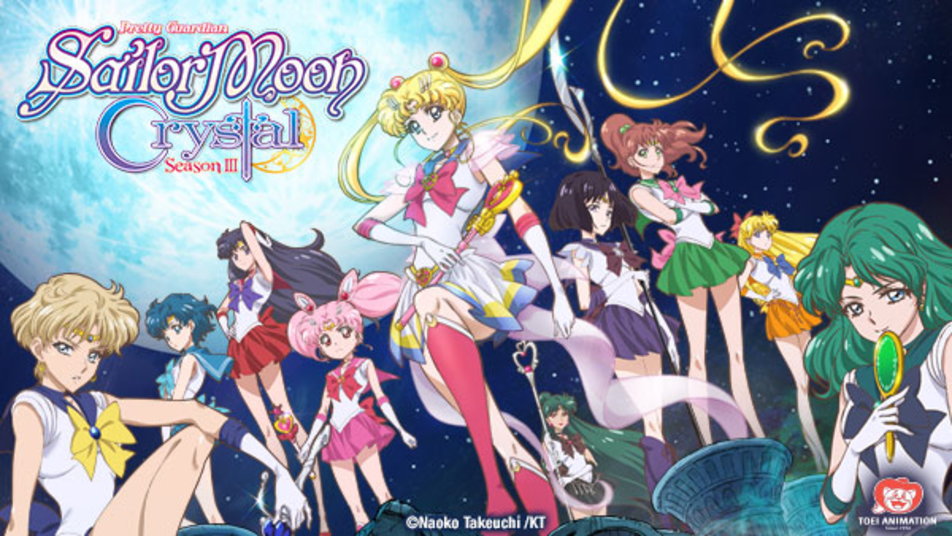 And sadly, I have yet to find shows for Wednesday to Friday, but every first and third Saturday there is Sailor Moon Crystal to get me back in touch with my childhood. This series is more based off the manga compared to the original series that aired back in the 90s.
There aren't any plans of making an English-dubbed version of this show, from what I know, so viewers are going to have to suffice with reading subtitles. Subtitles never bothered me anyway, sometimes I watch American shows with closed-captioning because I have a hard time hearing or understanding what people are saying lol
Ultimately if you are a lover of Sailor Moon or a lover of magical girls who are also basically superheroes, this is the show for you.

I watch majority of these shows on Hulu, other than The Walking Dead.
If you do not have a Hulu account, you can always watch it when it airs on television. Well except for Sailor Moon which can also be viewed on Crunchyroll.

Disclaimer: This post was not sponsored by Hulu, AMC, Fox, The CW, or Crunchy Roll or any other affiliates. These are shows I personally enjoy watching and I am solely just sharing my own opinions on these shows.
And so I hope you guys found this post informative, persuasive, entertaining and other adjectives that relate to those other adjective I just listed. If you have any questions, comments, suggestions or just want to say "Hello" please do so in the comments below.
And I will be posting again some time very soon, I'm sure. Unless I get lazy or caught up in something more profitable (JK. )
With love,
Kat Sangfroid.